Three Course Meal for Diabetics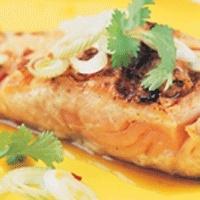 Asian salmon fillets
To round off Diabetes Week, which officially finishes tomorrow (19 May) we have served up one of the many recipes which can be found at http://www.diabetes.org.uk/ which are suitable for most diabetics.
Diabetes Week aims to raise awareness about the health condition which effects more than 2.8 million people in the UK alone, we say 'more' because a worryingly 850,000 people are unaware they have the illness.
Diabetes occurs when you have too much glucose in your blood, this happens when your pancreas doesn't produce enough insulin for the blood to travel around the body cells.
There are two types of diabetes. Type 1 is when the cells which produce insulin have been killed off, people who have this type of diabetes need daily injections. Type 2, the most common form of diabetes is when the body can produce insulin, but not enough. People with this type need to balance their diet or their bodies could become a pin cushion as their diabetes changes to Type 1.
Anyway, enough of the morbid stuff and lets turn our attention to food; here's a scrumptious three course meal which is ideal to prepare for most diabetics.
STARTER – Tiny Crab Starlets.
Ingredients.
 36 little pastry cases (mini croustades)
 1 egg, beaten
 4 tablespoons crème fraîche
 1 tablespoon fresh chives, snipped
 pinch paprika
 1 tablespoon Parmesan
 225g (8oz) fresh crab meat
 freshly ground black pepper
Instructions.
Preheat the oven to 200ºC/400ºF/gas mark 6.
Place the pastry cases onto a baking sheet. Beat together all the remaining ingredients and use to fill the pastry cases.
Bake for about 15 minutes until the filling is just set and turning golden. Cool a little and serve.
These are best eaten (or frozen) the same day to save the pastry going soggy.
For a vegetarian option, replace the crab with the equivalent weight of thinly sliced sautéed onions.
If you can't find bite sized pastry cases then line mini tart tins with very thinly rolled shortcrust pastry (200g/7oz).
Makes 36, so serve 3 each and freeze the rest.
MAIN COURSE – Smoked Haddock Florentine
Ingredients
50g/1¾oz baby leaf spinach
1 cloves garlic, crushed
2 tomatoes, sliced
2 pieces smoked haddock (each weighing approx 150g/5½oz)
300ml/½ pint semi-skimmed milk
2 tablespoons sauce flour
50g/1¾oz mature cheddar, grated
25g/1oz granary breadcrumbs
salt and freshly ground black pepper
Instructions
Preheat the oven to 200ºC/400ºF/gas mark 6.
Place the spinach and garlic in a large pan over a medium heat and toss until wilted. Transfer to the bottom of an oven-proof dish and layer over the tomato and the haddock pieces.
In a small pan, mix together the milk and the sauce flour, heat until thickened, stirring continuously then stir through half of the cheese and season well. Pour over the fish
Mix together the remaining cheese and the breadcrumbs and sprinkle over the top.
Cook for 15-20 minutes until golden and bubbling. Serve with new potatoes.
DESSERT – Panetone summer pudding
Ingredients
 350g (12oz) frozen mixed berries, defrosted
 125g (4½oz) panetone, roughly torn
Instructions
Simply mix together the berries and panetone and refrigerate for at least 1 hour, stirring occasionally.
Serve with a little light crème fraîche or yogurt.